Meet Our Veterinarian Partners
Dr. Zenor's professional passion is Feline Veterinary Medicine and behavior and she has been a Feline exclusive Veterinarian for 10 years, with 20 additional years of general small animal medicine.
She has worked as a small animal veterinarian since her 1980 graduation from Iowa State University's College of Veterinary Medicine. She owned The Fleur Animal Hospital, a small animal practice in Des Moines, Iowa, for many years before selling that practice and relocating to Sarasota, Florida,
She applies her veterinary skills, love of cats, and love of people to my clients at the Cat Hospital of Sarasota, and my own cat veterinary house call practice, Angel Cats.
Volunteer work and fund raising for cat causes has been an important mission for Dr. Zenor, or Dr. Purr as she is known. She initiated an annual benefit for the Humane Society in Sarasota, and volunteers her services for the Sarasota Cat Depot.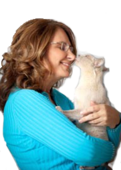 Dr. Robin Hughes graduated from Kansas State University and has practiced in many parts of the country. She worked for 8 years as a zoo vet and Curator of Animals at two different zoos. She moved to Florida to be with her parents, who are snowbirds in Sun City Center. Since then, she has worked in shelter medicine and small animal practice. She also worked as a flight instructor at the Sarasota Airport.
Robin lives on a small farm and has a herd of Nigerian Dwarf Goats, a flock of chickens, two rabbits, a cat, dog, cockatiel, and parakeets. Robin likes to write and recently published a children's book.
Roberta Hughes, DVM
Veterianary Advisor
Board of Directors Member
Sherry Zenor, DVM
Veterianarian Who Works With Us